Satisfy Your Cravings with These Delicious Weight Loss Recipes
Are you struggling to lose weight?
Do you find yourself giving in to unhealthy food cravings?
You're not alone. It can be challenging to stay on track with a healthy eating plan, especially when you're trying to lose weight. However, it's essential to remember that healthy eating doesn't have to mean sacrificing taste. In fact, with the right recipes, you can enjoy delicious and satisfying meals while still achieving your weight loss goals.
In this article, we'll share some of the best weight loss recipes that are both healthy and flavorful. So, let's get started!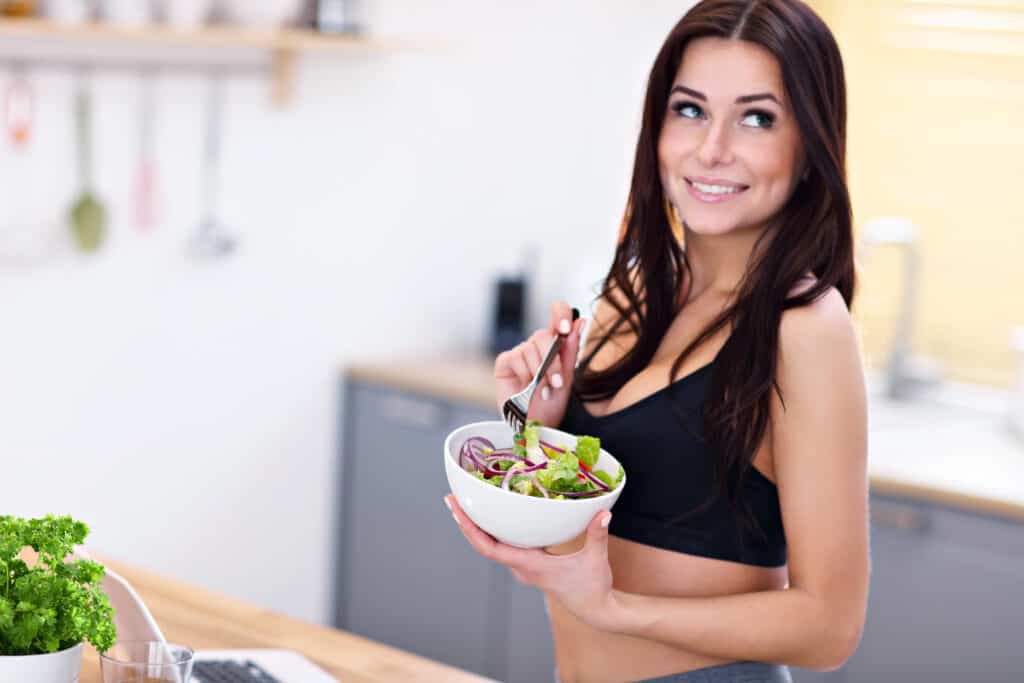 Grilled Chicken Salad with Avocado Dressing
Looking for a satisfying lunch option that won't sabotage your weight loss goals? This grilled chicken salad with avocado dressing is the perfect choice. The salad features grilled chicken breast, mixed greens, cherry tomatoes, sliced cucumbers, and a creamy avocado dressing.
Avocado is an excellent source of healthy fats and adds a rich, creamy texture to the dressing. This recipe is also high in protein, which will help you stay full and satisfied throughout the afternoon.
Baked Salmon with Lemon and Dill
Salmon is a fantastic source of omega-3 fatty acids, which are essential for heart health and can also help with weight loss. This baked salmon recipe is simple to prepare and bursting with flavor. The salmon is seasoned with lemon and dill and then baked to perfection. Serve it with a side of roasted vegetables for a healthy and delicious meal.
Cauliflower Fried Rice
If you're craving takeout, this cauliflower fried rice recipe is a healthier alternative to traditional fried rice. Instead of using white rice, this recipe calls for grated cauliflower, which is a great low-carb substitute.
The cauliflower is sautéed with veggies like onions, carrots, and peas, and then mixed with scrambled eggs and soy sauce. It's a satisfying and flavorful meal that won't leave you feeling weighed down.
Turkey and Sweet Potato Chili
Chili is a classic comfort food, but it can also be high in calories and fat. This turkey and sweet potato chili recipe is a healthier version that is just as satisfying.
The sweet potatoes add natural sweetness and provide a dose of fiber, while the ground turkey is a lean source of protein. This recipe is also a great option for meal prep since it can be easily reheated for a quick and easy lunch or dinner.
Zucchini Noodle Pad Thai
Pad Thai is a popular Thai dish that is usually made with rice noodles, which are high in carbs. This zucchini noodle pad Thai recipe is a lighter version that uses zucchini noodles instead.
The zucchini noodles are mixed with a flavorful sauce made with peanut butter, lime juice, and soy sauce. Add some sautéed shrimp or chicken for an extra protein boost.
Sweet Potato and Black Bean Enchiladas
Enchiladas are another comfort food that can be high in calories and fat. However, this sweet potato and black bean enchilada recipe is a healthier alternative.
The sweet potatoes and black beans provide a good dose of fiber and protein, while the enchilada sauce adds a flavorful kick. This recipe is also vegetarian-friendly and can be easily customized to suit your taste preferences.
Greek Yogurt and Berry Parfait
If you're looking for a healthy and satisfying dessert option, this Greek yogurt and berry parfait is a great choice. The Greek yogurt is high in protein and has a thick, creamy texture that will satisfy your sweet tooth.
Layer it with fresh berries, a sprinkle of granola, and a drizzle of honey for added sweetness. It's a perfect balance of flavors and textures that will leave you feeling satisfied and guilt-free.
Quinoa Stuffed Bell Peppers
Bell peppers are an excellent source of vitamin C, and when paired with protein-rich quinoa, they make for a satisfying and nutritious meal. This quinoa stuffed bell pepper recipe is packed with vegetables like zucchini, onion, and corn, and is seasoned with a blend of spices for added flavor. It's a delicious and healthy way to get your daily dose of veggies.
Balsamic Chicken with Roasted Vegetables
This balsamic chicken with roasted vegetables recipe is a perfect dinner option for those who want a simple yet flavorful meal. The chicken is marinated in balsamic vinegar and then baked to perfection.
The roasted vegetables like sweet potatoes, broccoli, and red onions add a touch of sweetness and crunch. It's a healthy and filling meal that the whole family will enjoy.
Peanut Butter Banana Smoothie
Smoothies are an excellent way to get in your daily dose of fruits and vegetables, and this peanut butter banana smoothie recipe is no exception.
The bananas add natural sweetness, while the peanut butter provides a good dose of healthy fats and protein. Add some spinach or kale for an extra nutrient boost.
Start Today and Satisfy Your Cravings with These Delicious Weight Loss Recipes
Healthy eating doesn't have to be boring or tasteless. With these delicious weight loss recipes, you can satisfy your cravings and still achieve your weight loss goals. Incorporate these recipes into your meal plan and enjoy the benefits of eating healthy.
Remember, a healthy lifestyle is all about balance and moderation, so indulge in these healthy and flavorful recipes without any guilt.
FAQs
Can I still lose weight while eating these recipes? Absolutely! These recipes are designed to be healthy and nutritious, which will help you achieve your weight loss goals.
Are these recipes suitable for vegetarians or vegans? Yes, some of these recipes are vegetarian-friendly, and with some modifications, they can be made vegan as well.
Can I use substitutes for some of the ingredients? Yes, you can substitute ingredients to suit your taste preferences or dietary restrictions.
Are these recipes easy to prepare? Yes, these recipes are simple to prepare and can be easily made at home.
Are these recipes kid-friendly? Yes, most of these recipes are family-friendly and can be enjoyed by both adults and children.